A fascinating cedarwood meets ambergris-like note, ISO GAMMA SUPER is enchanting on its own or as an amazing amplifier of other fragrances. The woody scent is smooth, clean and addictive. Created via green chemistry, this unique synthetic note is allergen-free. Designed for fragrance minimalists and for those looking to customize their fragrance collection.
Notes Profile
Mid:
Cedar, Ambergris, Vetiver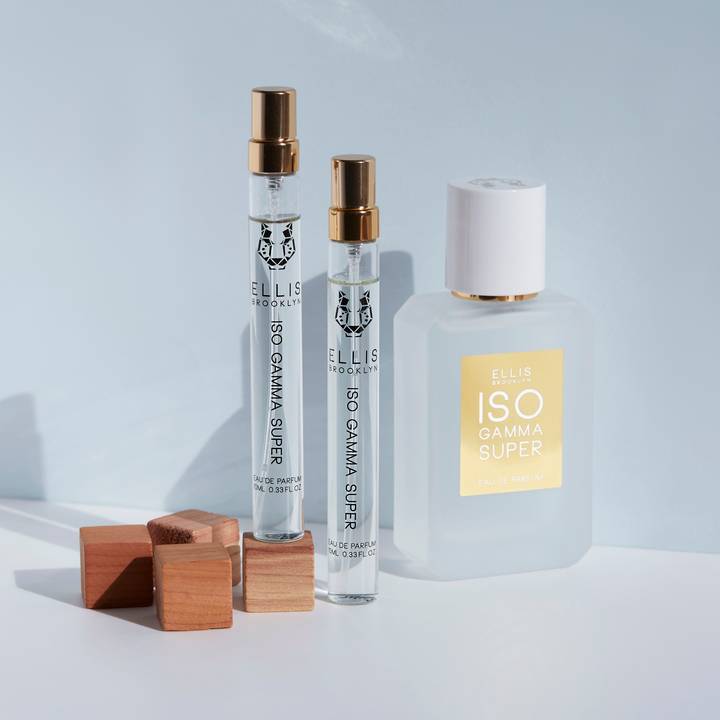 Highlights
Paraben-free, phthalates-free, cruelty-free, allergen-free, and vegan
Each fragrance is thoughtfully cared for from production start to finish.
About the Bottle: This bottle is composed of glass and can be reused or recycled. Remove cap and any spray parts, including the dip tube. Rinse out glass portion and reuse or recycle.
Bakelite Compression Cap: This cap is biodegradable and contains no petrochemicals.
Made in the USA.
How to use:
Spritz on the pulse points or on the body as desired. Layer other fragrances on top of ISO GAMMA SUPER to deepen the scent.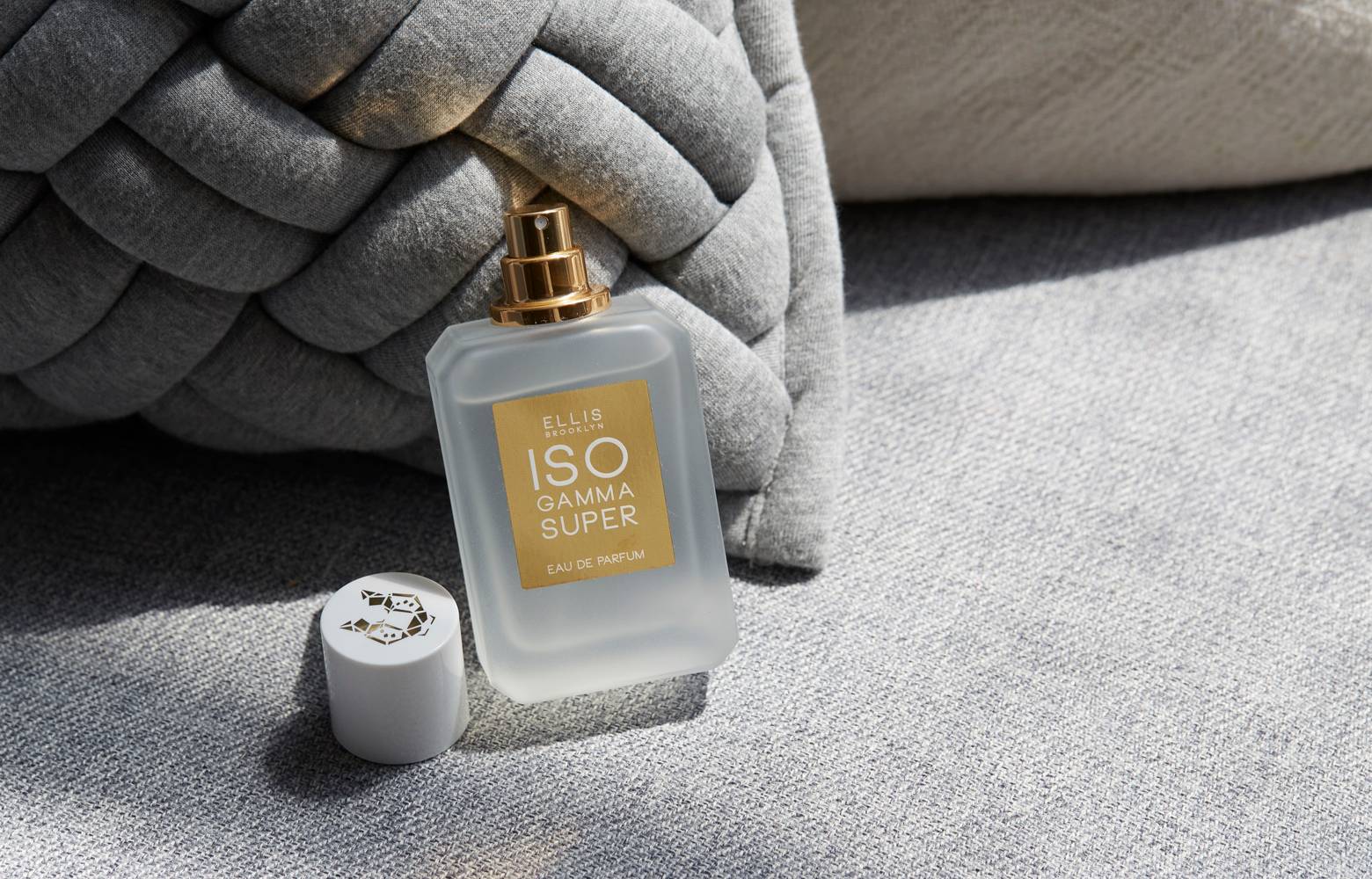 Inspiration
This fragrance is about paring down a scent to its addictive, magical essential self.
View All Ingredients
Ingredients
Alcohol denat., Parfum (fragrance)
Customer Reviews
Total 5 star reviews: 33
Total 4 star reviews: 4
Total 3 star reviews: 3
Total 2 star reviews: 3
Total 1 star reviews: 3
80%
would recommend these products
Longevity
Rated 3.5 on a scale of 1 to 5
Sean M.

Verified Reviewer

Reviewing

ISO GAMMA SUPER Eau De Parfum

LOVE THE SCENT BUT.......

I received the 10ML travel size as part of a Birthday Gift, When I opened it I found it Only 20% Full! At first, I thought maybe it was supposed to be that way & I was supposed to add Water or Alcohol. I know that sounds silly now, but I've never opened a bottle of Parfum to find it almost empty & I've Opened More Than Most in my life & They're almost always SEALED very well. Plus the bottle wasn't cracked & the Box did not show any sign of damage, leakage, or even Smell like the Parfum. I think the box was wrapped in a plastic film, but I'm not 100% about that.

I'd Feel Silly going back to my friend and saying something about it as it was just 1 small part with 2 other somewhat expensive gifts. So saying something about it is not something I'm comfortable with, IDKY.🤷🏻‍♂️

Either way, the scent is very nice, a 5 STAR SCENT as far as I'm concerned. My only problem now is whether I trust that this is just a 1 in a Million Fluke & Not something this company even knows about because maybe this is filled and packed completely by machine. And if that's the case, is that necessarily a good thing? Plus, where's there Product Quality Verification Happening, if it's happening at All, to begin with?

Longevity

Rated 3.0 on a scale of 1 to 5

Reviewing

ISO GAMMA SUPER Eau De Parfum

Great Everyday Scent

Even though this is a great amplifier for whatever other fragrance you're wearing, this nice, salty musk scent can be worn by itself and smells great all on its own. When you have one of those days when you wake up and can't decide which perfume to wear, reach for this one. It's a great addition to my fragrance wardrobe.

Longevity

Rated 4.0 on a scale of 1 to 5

Reviewing

ISO GAMMA SUPER Eau De Parfum

Subtle scent

I barely smell this on myself but get endless compliments when I wear it. I also use it to boost the staying power of other scents.

Longevity

Rated 3.0 on a scale of 1 to 5

Reviewing

ISO GAMMA SUPER Eau De Parfum

Good for layering

I love this fragrance. It is definitely woody, like cedar sawdust almost. So good though. It might not smell like much at first spray, but it develops as you wear it and it keeps getting better. I think I did read somewhere though that it's a molecule that some people just can't smell at all, so if you're going to blind buy it, a travel size might be your best bet at least at first. But, I can't stop smelling myself when I have it on. It really is addictive. I've also found that it's great for layering and can provide many other fragrances with added depth and longevity. I have a travel size only and am here to buy a full size. I see it's on sale so I really hope that doesn't mean that it's being discontinued as I think it's one of Ellis Brooklyn's best fragrances. Also love that Ellis Brooklyn is committed to clean beauty and sustainable practices and sourcing.

Longevity

Rated 4.0 on a scale of 1 to 5

Jeannine R.

Verified Buyer

Reviewing

ISO GAMMA SUPER Eau De Parfum

Great for Layering

This 'your skin but better' fragrance, alone, is decent. For me, this fragrance shines when it's layered with light, fresh or fruity scents. It adds to the longevity of any fragrance & it complements any scent, even body butters & body oils.

On a hot, humid Summer day, one my favorite perfume oils ,on my pulse points + Iso Gamma Super wherever you want. You will smell Divine for hours.

Longevity

Rated 3.0 on a scale of 1 to 5
Reviews Loaded
Reviews Added