The freedom of the mountains, the rush of alpine air, the bracing freshness of evergreens, and the richness of bourbon, praline and vanilla, APRÈS is a celebration of the wintry outdoors. APRÈS opens dewy like first snow and then evolves into a boozy-woodsy brew laced with spices and sweetness. Addictive, compelling and bold, APRÈS is a beautifully structured scent with both strong sillage and longevity. 
Cruelty Free
Vegan
Paraben Free
Notes Profile
Top:
Saffron, Juniper Berries, Cardamom
Mid:
Soft Suede, Bourbon, Violet, Praline, Guaiacwood, Labdanum
Dry:
Musk, Vanilla, Patchouli, Cedarwood, Sandalwood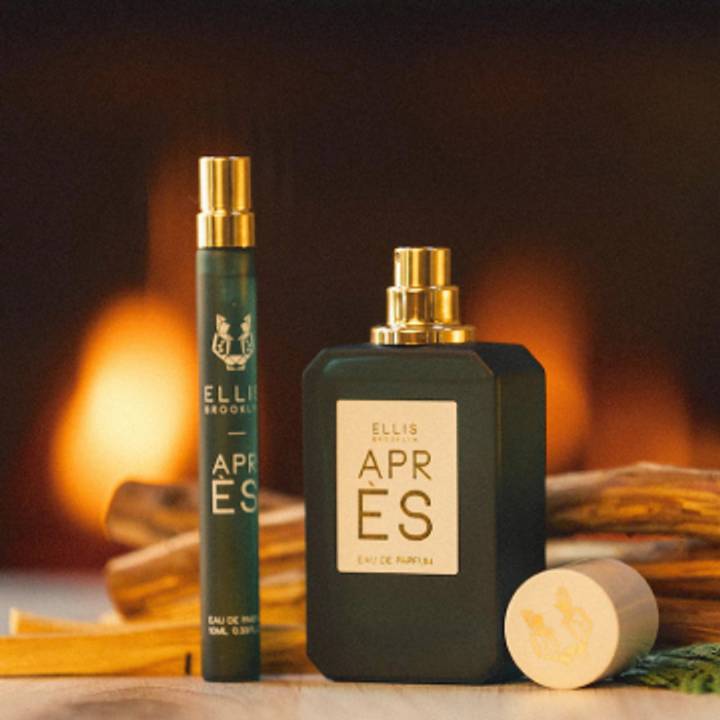 Highlights
The Sandalwood we use in APRÈS is made with 100% white chemistry, 100% Renewable Carbon and is readily biodegradable.
Paraben-free, phthalates-free, cruelty-free and vegan
Each fragrance is thoughtfully cared for from production start to finish
About the Bottle: This bottle is composed of glass and can be reused or recycled. Remove cap and any spray parts, including the dip tube. Rinse out glass portion and reuse or recycle.
Bakelite Compression Cap: This cap is biodegradable and contains no petrochemicals.
Made in the USA
How to use:
Spritz generously onto your wrists, neck and pulse points – your body heat will help to diffuse the fragrance as the day goes on.
Inspiration
"He was mastered by the sheer surging of life, the tidal wave of being, the perfect joy of each separate muscle, joint, and sinew in that it was everything that was not death, that it was aglow and rampant, expressing itself in movement, flying exultantly under the stars."
― Jack London, The Call of the Wild
View All Ingredients
Ingredients
Alcohol Denat., Fragrance (Parfum), Water (Aqua/Eau), Citric Acid Tetrahydroxypropyl Ethylene Diamine, Benzyl Alcohol, Benzyl Benzoate, Benzyl Cinnamate, Citral, Citronellol, Coumarin, Eugenol, Farnesol, Geraniol, Hydroxycitronellal, Isoeugenol, Limonene, Linalool
Customer Reviews
Total 5 star reviews: 4
Total 4 star reviews: 1
Total 3 star reviews: 1
Total 2 star reviews: 2
Total 1 star reviews: 0
63%
would recommend this product
Sharon

Reviewing

APRÈS Eau De Parfum

Love

I love this scent. While the other reviews indicate it leans masculine and has that burst of cedar, it settles in beautifully warm. I tend to prefer what some might consider more masculine, woodsy, smoky scents - but I always get compliments from both sexes when I wear it.

Lori H.

Verified Buyer

Reviewing

APRÈS Eau De Parfum Travel Spray

the perfect scent for winter

the perfect scent for winter - musky, pine

LeShae T.

Verified Buyer

Reviewing

APRÈS Eau De Parfum Travel Spray

It's a little to Christmas-like

It's a little to Christmas-like for me. Like I can ONLY were it around the holidays. If it were December all year long it'll be perfect. The scent last a very long and it's not headache strong.

Gabriela A.

Verified Buyer

Reviewing

APRÈS Eau De Parfum

I do not recommend this product

It's smell like christmas tree

It's smell like christmas tree didn't like it at all

Shannon S.

Verified Buyer

Reviewing

APRÈS Eau De Parfum Travel Spray

Like wearing your boyfriend's jeans with your favorite boots

The opening to this is crazy - I've never smelled a perfume that actually smells like a tree before. I have to assume that's the juniper berry, but there's definitely a wood in this smell that actually smells like wood, sharp and natural. My partner is a woodworker and this is the first wood smell that actually reminds me of him planing huge slabs in the garage. There's a definite spice that I'm assuming is the cardamom - a complicated spice, that a lot of people don't like in baking, but I tend to love the type of complex bitterness it adds to something. Or perhaps it's the saffron - I don't have that one in my spice rack so I'm less sensitive to it. A hint of sweet comes in the dry-down, but man this scent is just so complex. A few hours in, I can really distinctly make out the leather, but the resinous labdanum must be present there as well, just a little creamy. All the while, that spice persists. The nose-tickle of patchoulli starts to present, and I can distinctly smell the cedar in waves, then the sandalwood. God, what a beautiful perfume. It's really like a dance performance. In the evening dry down, a nice, sweet musk, with a hint of patchouli and just the suggestion of vanilla.

I can't pretend this isn't masculine, and yet it doesn't smell like a cologne. It's masculine in the way that your boyfriend's jeans are masculine - if you're feminine, then the men's jeans just become fashionable and cool. If you're masculine, then the jeans are comforting and cozy. It's like they vacuumed the gender out of a forest scent, and you and the perfume work to amplify what you want it to be.

Overall, a complex evergreen forest scent. Unisex, but defiantly so. This scent has me really excited for what EB has in store for 2022 - each new launch is more unusual than the last.
Reviews Loaded
Reviews Added